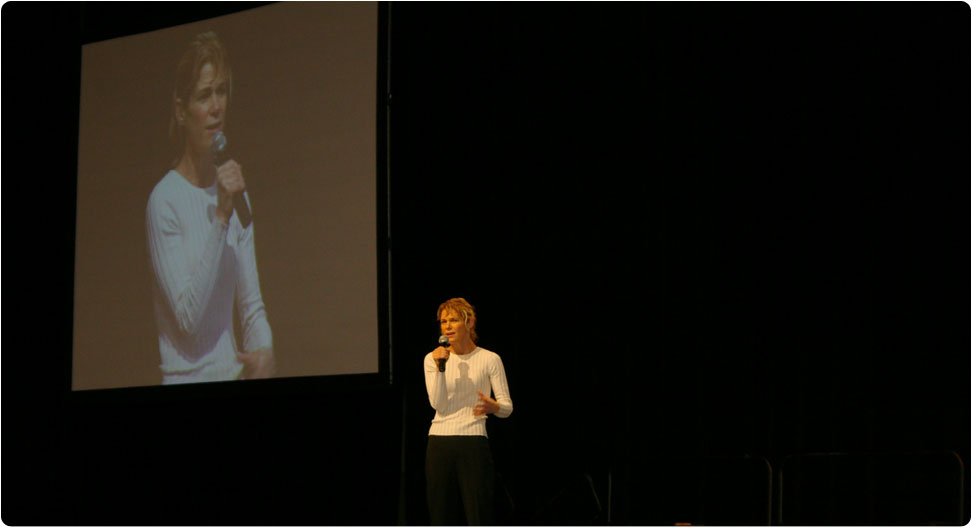 Sample of Topics/Themes:
Overcoming Obstacles: Focus on the step not the stumble
Teamwork: Two hearts are better than one
Goals: Vision followed by persistence
Courage: Living without nerves
Success: Patiently building your legacy
Boundaries: Explore and expand
Partial List of Clients/Venues
No Barriers USA, Florida
UCLA Faculty, Los Angeles, CA
5-Point Film Festival, Carbondale, CO.
Caltech Y, Pasadena, CA
Strong Women, High Adventure Mountain Film Festival, Utah
LifeFest, Toronto, Canada
Tech Museum of Innovation, San Jose, California
Sports & Transplantation Congress, Belgium
Summit for Life, Aspen, Colorado
Ortho-Clinical Diagnostics, J&J, Florida
Explorers Festival, Poland
ROTRF, Vienna Austria
Roche Pharmaceuticals, Monte Carlo
Gift of the Heart Foundation, California
American Heart Association, California
Astellas/Fujisawa Healthcare
Bristol-Myers Squibb, California
A few words from audiences....
"Team Perkins' makes you laugh, they make you cry, they give live perspective, and they truly inspire."
"I hung on to your every word and was truly inspired by your story!"
"We have all been blessed and touched by your amazing life and though your visit was short, the impact is everlasting!"
"One inspirational, uplifting speaker!"
"Kelly and Craig Perkins were very inspirational. They made me want to accomplish my goals."
"My goal was to end the event on an inspiring note and you more than succeeded in doing just that!"
"In telling your story, you are remarkably humble and approachable. I think your humility is what makes your presentation so much more remarkable. We can all learn something from the way you lead your lives."
"The team (Ketchum Communications) was extremely impressed by your enthusiasm, professionalism, and dedication throughout the planning stages right through to the final presentation."
"They are truly very special people with a very special story!"